Knowledgebase
Can ProExe connect to my PC to fix a problem?
Posted by James Robshaw on 23 February 2008 12:10 PM
Connect. Diagnose. Solve.
Our secure Remote Support software is easy to use and requires no modifications to your firewall or security settings. We only access your screen and keyboard, there is no way a virus or Trojan can be transferred in either direction!
1. First contact us so that we know you need support.
2. We will provide either an email with a link that looks something like https://secure.logmeinrescue/R?i=2&Code=3421 or a login page and a 6 digit pin number as shown below.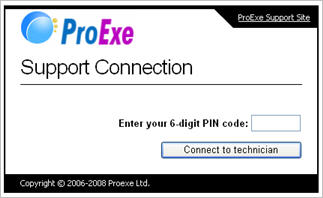 For either method, the email link or the pin number, they will both be valid for 30 minutes from the time we send it to you.
3. You will be prompted to Run a web applet. Again there is nothing to install, you just need to download the temporary program and run the applet.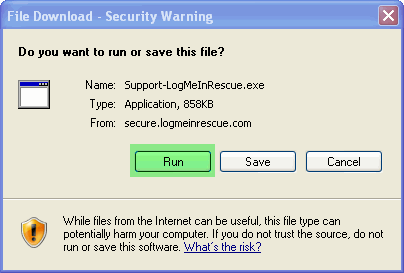 4. Depending on your browser and operating system, there will now be a second security warning, again click on Run.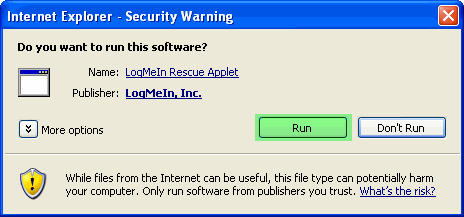 Depending on your security, you may be asked to block or unblock the applet from your firewall. Click on unblock or allow.
5. The Support chat box will now display on your screen, and indicate that you are waiting for a technician to connect to your computer. Simply waiting for the ProExe technician to connect.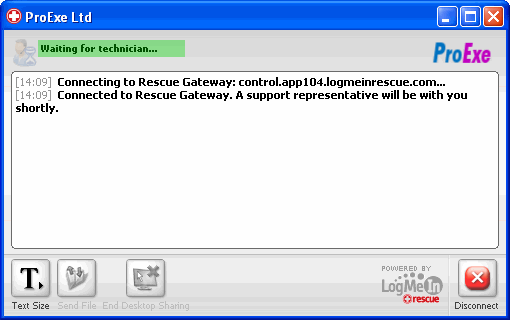 6. Once a ProExe technician connects, you will notice the chat box changes to show the name of the technician.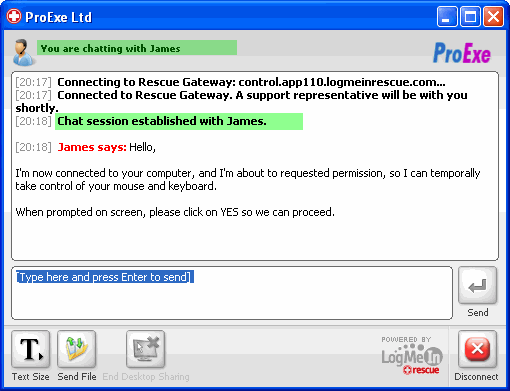 You can use the bottom of the chat box, to "chat" just as you would with any Instant Messenger. Enter text and click Send. You can disconnect at any time.
If you are also in contact by telephone or Skype, you do not need to use this chat box, and can minimise it.
7. You will be asked if the ProExe technican, can take control of your keyboard and mouse.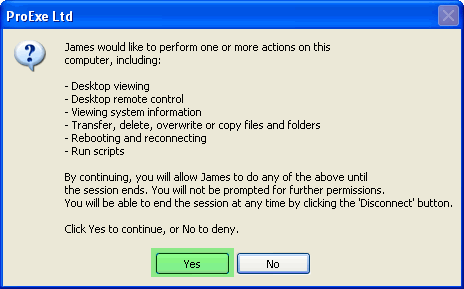 You have the option of saying "No" but this defeats the purpose of requesting the online support, so please click on "Yes".
8. You can stop the desktop sharing at any time by clicking on the appropiate buttons at the bottom of the chat box.
Disconnect will end both the session, and desktop sharing if it is currently in use. Whereas clicking 'End Desktop Sharing' will still leave the chat session running.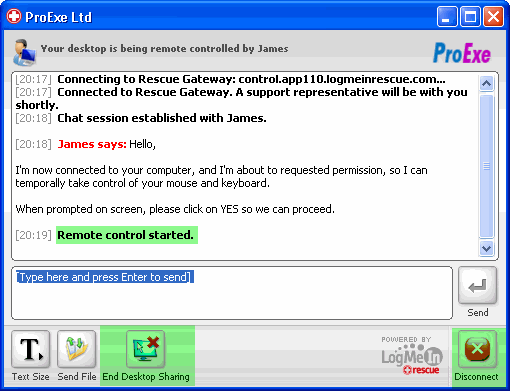 10. The applet goes away after you have disconnected the support session, and will not remain on your computer system. If in the future you need further Remote Support, you will need to download, and run the applet again.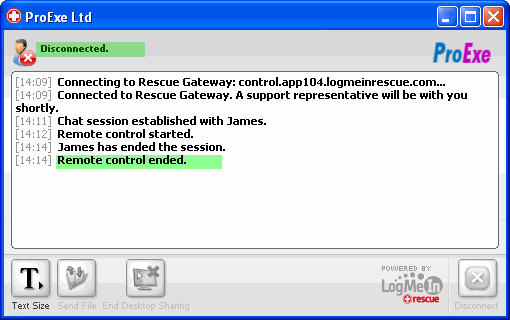 ---