I used to play network games or use peer-to-peer software on the web before I installed F-Secure Internet Security 2007. Now these applications do not work anymore. What can I do?
Posted by James Robshaw on 05 April 2007 10:38 AM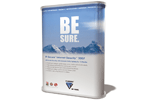 If this occurs, please change the settings of your Internet Shield security level. The Internet Shield security levels are a set of security rules that allow you to modify your level of Internet Shield protection. In most cases, a security level set to the 'Normal' status will allow you to run these types of applications without any problems.
To change your active security level:
Double-click the blue F-Secure Internet Security icon in your Windows system tray at the bottom right corner of your screen to open the main user interface.
On the Internet Shield line, click 'Change…'. The Internet Shield Security Level dialog opens.
Select the desired security level from the drop-down list.
Click OK to start using the selected security level.
---