Does Internet Relay Chat (IRC) work with F-Secure Internet Security 2007?
Posted by James Robshaw on 05 April 2007 10:36 AM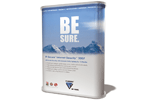 Yes. If your Internet Shield Security Level is set to 'Normal', F-Secure Internet Security 2007 will allow IRC by default. If you are using another Security Level or have added your own firewall rules or services, remember to check that 'Service IRC' and 'Service IDENT' traffic is allowed both ways for the security level that you are using.
---