Why is my FTP software not functioning after I installed F-Secure Internet Security?
Posted by James Robshaw on 05 April 2007 10:30 AM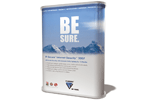 You have to add a new firewall rule (outbound) in your security level. To add a new rule: click on the 'Configure' link on the 'Firewall' line of your 'Internet Shield'. Choose the 'Rules' tab and click the 'Add' button. Run through the wizard and use the predefined 'FTP - … active mode' service (step 3 in the wizard).
---