How do I change the security level in F-Secure Internet Security 2007?
Posted by James Robshaw on 05 April 2007 10:20 AM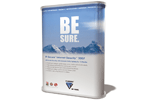 To change your security level:
Double-click the blue F-Secure Internet Security icon on your Windows system tray at the bottom right corner of your screen to open the main menu.

Click the 'Internet Shield' tab on the main menu.

Click 'Internet Shield . . . Change' on the Internet Shield pane. The Internet Shield Security Level window opens.

Select the desired security level from the drop-down list.

Click Apply to start using the selected security level.

---