What is the difference between Internet Shield Security Levels and firewall rules?
Posted by James Robshaw on 05 April 2007 10:18 AM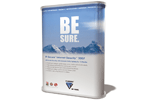 F-Secure Internet Security 2007 includes several Internet Shield Security Levels that enable the end-user to set more flexible or severe security policies.
Every Internet Shield Security Level is composed of a set of pre-configured firewall rules. Expert users may create their own firewall rules to modify the Security Level.
---