Every time I scan the computer, I find lots of spyware. Why is this?
Posted by James Robshaw on 04 April 2007 12:32 PM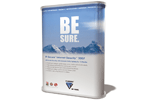 Most likely the majority of found spyware items are so called tracking cookies. Cookies are items in the Web browser that web sites use to save some information on the user's computer. Such cookies can compromise your privacy.
---