How do I allow or deny e-mail coming from a certain address?
Posted by James Robshaw on 04 April 2007 12:19 PM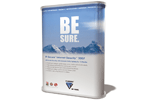 To allow e-mail from a certain address or a domain: Open the 'Advanced' settings and choose 'Allowed Senders' under Spam Control on the left menu. If you want to allow mails from certain domains add '*' as the wildcard indicating any address in a certain domain, then add the rest of the address after @ sign.
An example: *@example.com on the allow list would allow all mails coming from the example.com domain.
---