The Parental Control Time Lock is blocking the connection to the Internet. What can I do?
Posted by James Robshaw on 04 April 2007 12:15 PM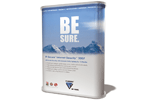 When Time Lock blocks the connection to the Internet, the web browser displays a notification that Time Lock is active and the Internet cannot be accessed. Click the link on the page and enter your Parental Control password to suspend Time Lock until the specified time. Time Lock blocks all connections again after the time you specify.
You can also suspend Time Lock from the Internet Explorer Parental Control menu button and from the F-Secure icon in the Windows system tray at the bottom right corner of your screen.
---