How do I change the Parental Control settings?
Posted by James Robshaw on 04 April 2007 12:11 PM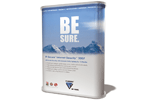 New rules can be added from the advanced settings of Parental Control. On the Parental Control tab click on the 'Webpages allowed /denied' link. This will open a view listing all visited, allowed, and denied websites in their own tabs. New sites can be added to allowed or denied lists using the add button.
If you are using Internet Explorer, new sites can be listed as allowed or denied using the F-Secure Internet Security 2007 Webfilter button in the browser's toolbar.
---