Why is the F-Secure icon missing from the Windows system tray?
Posted by James Robshaw on 29 March 2007 02:35 PM
Please check the following:
In Windows XP icons may be hidden. Click the arrow button on the Windows system tray (next to the clock) to display the hidden icons.
Can the program be started through the Windows Start menu? On Windows Start -> All Programs -> Open F-Secure Internet Security.
Uninstall any other antivirus or firewall software from your computer.
Scan the computer for viruses: Use the F-Secure Online Scanner (http://support.f-secure.com/enu/home/ols.shtml), or the Boot from the installation CD (see 'How to scan my computer with the Boot installation CD.').
If the above do not help:
Make sure that Windows is updated with the latest patches. To check for Windows updates, double-click the Automatic Updates icon in the Windows system tray.
If the F-Secure icon is not shown in the system tray when logged in as a user, but shown when logged as administrator, and, you get an error message similar to:
FSM32.exe - Application Error. The application failed to initialize properly (0x0000022)
Click 'OK' to terminate the application.
You are missing the permission for Read & Execute files from C:\Windows\system32- or C:\Program Files\F-Secure folder. Please contact our support if you need assistance with this.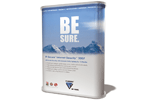 ---