How can I register a full version of F-Secure Internet Security on top of an evaluation version?
Posted by James Robshaw on 29 March 2007 01:42 PM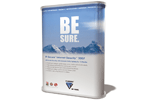 To activate your subscription in an evaluation product, do the following:
Make sure that your computer is connected to the Internet.
Open F-Secure Internet Security.
Click on 'Advanced'.
On the left menu, click 'General' and then click 'My Subscription'.
Click on 'Change Number', and type in your personal subscription number.
Click on 'OK'. The software connects to our servers to validate your subscription.
After validation the full subscription is activated and in use.
---