After installation of F-Secure Internet Security, I have no access to the Internet or my e-mail. What can I do?
Posted by James Robshaw on 29 March 2007 12:58 PM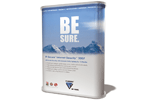 One possibility is that you have denied your browser's network connections. To verify this, open the 'Advanced' settings of your Internet Shield.
On the 'Application Control' pane, you will see a list of allowed and denied applications. Check that the 'Access' rule is on the 'Allow' mode for your browser, for example 'iexplore.exe' if you are using Internet Explorer.
---