After I installed the software and re-booted, the computer seems to freeze and does not react. What can I do?
Posted by James Robshaw on 29 March 2007 12:48 PM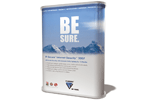 You most likely installed the software on top of an existing antivirus or firewall application, which was not automatically removed by the system during the installation. You will need to reset the computer and start the system in Safe Mode.
Reboot computer. After a few seconds the system will ask you whether or not to go into the booting options by pushing a function button. Once in the Safe Mode, you will need to uninstall the old antivirus and/or firewall application through the Control Panel > Add/Remove Programs.
---