Can I install F-Secure Internet Security 2007 on top of the existing version or on top of an evaluation version?
Posted by James Robshaw on 29 March 2007 12:33 PM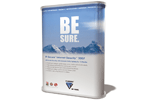 Yes. If you are using an evaluation version of F-Secure Internet Security 2007, you are able to upgrade to a full commercial version online by entering your subscription number in the settings.
If you would like to upgrade your current version to a version with other/additional features, you will need to purchase a new subscription number.
You will need to insert the new number in the "My Subscription" pane, in the "General" section, which can be accessed by clicking on the "Advanced" link.
---