Email Documents (ExeScan Pro version only)
Posted by James Robshaw on 20 July 2006 03:23 PM
Open the document to be scanned in the normal way. Choose the File - Email Current Document command. Enter the page range required. Click OK. Fill in the email recipient in the normal way. If you wish to add your office location (recommended) to the email to make it unique add your office name, Tools - Options - Misc before starting to email. The office location will then be used by the recipient.
DO NOT alter the subject line. The message body can be modified above the message already inserted by ExeScan.
You may need to alter the email system used by ExeScan. This can be done from the Tools - Options - Misc - Email Type. Most users will use MAPI. Microsoft Exchange and Outlook have been tested and known to work well. Due to the complexities of email other email systems may not work.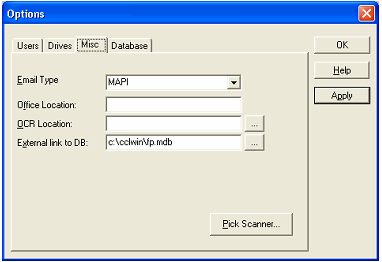 NB ExeScan relies on the underlying Email system to be fully functional.
It is still possible to send documents to users that do not have ExeScan. You will need to attach the document to an email by hand. The recipient will then open the document (a Windows .tif file) using the viewer installed on their PC.
---